RONDAE JEFFERSON A SHADE OF RAHLIR AT CHESTER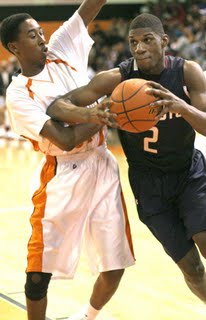 There's something about Chester freshman
Rondae Jefferson
that looks awfully familiar.
He's agile and quick, hits the boards hard and can score from anywhere inside the 3-point line. Sound familiar? It sounds like a description of Jefferson's older brother, Rahlir, who was an All-Delco last season.
The elder Jefferson, enjoying a strong freshman season with 17th-ranked Temple, said his younger brother has the potential to be better than him
"He's playing well. He hit a couple of jumpers,"
Rahlir Jefferson
said, after the Clippers' 57-40 loss to Penn Wood last Thursday. "He's still getting used to the movement in his leg, from when he was injured. Once that gets healed, he'll be good. He'll be better than me. I'm the big brother. I know. I just watch. I can see it."
"He tells me that sometimes," said Rondae Jefferson. "I don't know. His work ethic is better than mine, but I just give all of my heart every chance I get. I just twisted my ankle before the game. All I could do was lace up the sneakers and give it my all."
Rondae Jefferson is averaging five points per game for the Clippers, playing in only three of their games because of a preseason leg injury. Already, Chester coach
Larry Yarbray
can see similarities in the brothers' play.
"At this stage, as far as talent with him being a freshman, he's got more than what Rahlir had," Yarbray said. "Rahlir's work ethic got better over the years once his confidence got up. In terms of confidence, Rondae already has that.
"He says stuff like, 'Coach, I'm going to get you a foul shot.' I trust his abilities to a certain extent. If you saw it, in the heat of the battle tonight, he pulled the whole team together. He's a leader. He believes in himself already. Not a lot of guys have that, which is amazing because some of them have played for three years. If he hadn't gone down in the beginning of the year, those (seven) losses we have, we might only have three of them."
Labels: Chester, Larry Yarbray, Rahlir Jefferson, Rondae Jefferson