PENNCREST BAND MAKES STATEMENT VS. HAVEN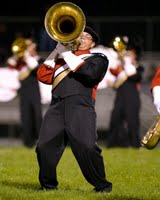 Sometimes, I write posts for this blog thinking nobody is reading this thing. (Only half the time I'm right. ... Maybe.) This time, the blog was read and Penncrest responded.
Before the Lions' 55-36 win over Strath Haven Friday, I was told by members of the Lions coaching staff that the Penncrest band took offense to my
listing the school as the third-best place to see a game
this season (behind Chester and Glen Mills.) In an attempt to prove me wrong, the marching band pieced together a 22-member ensemble to play pre-game, during timeouts and at halftime.
A band at a basketball game is practically unheard of. It's more a football thing. According to Penncrest senior
Richard Forbes
, Penncrest's musicians had played at basketball games as recently as four years ago.
"But it fell off, for whatever reason," said Forbes, the band leader for Friday's game who also plays clarinet. "People don't want to do it because they're not sure how they'll get their homework done, too. But we figured it would create a good atmosphere for a game.
"And, really, who doesn't want to be here? The team is playing great. Everyone wants to come out to their games."
Forbes, junior co-conductor
Matt Pesce
and the band's faculty moderator
Craig Snyder
helped get Friday's effort off the ground. They posted a sign-up sheet in the music room and the volunteers piled up. The band played the White Stripes' "Seven Nation Army" and Steppenwolf's "Magic Carpet Ride" among other songs.
It had an affect on the Lions (17-2, 11-2).
"It was like a college atmosphere with them," said
Rodney Duncan
, who had a team-leading 22 points. "It just made for a crazy atmosphere."
Added coach
Mike Doyle
: "What they were able to bring was a nice addition."
Labels: Mike Doyle, Penncrest, Rodney Duncan