PATRIOTS' JOHNSON JOINS 1,000-POINT CLUB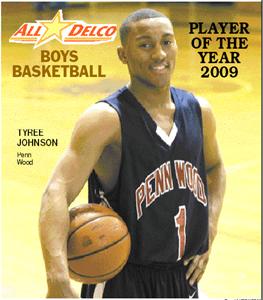 Sunday, Penn Wood point guard
Tyree Johnson
became the eighth player in school history to score 1,000 points in his career. He did so nonchalantly, too, hitting a fourth-quarter free throw late in Penn Wood's 66-48 rout of Chester.
Johnson, the reigning Daily Times Player of the Year, finished with 10 points in the game. He joins
Lamont Ferrell
*,
Rap Curry
,
Mike Holmes
,
Shawn Day
,
Ed Millard
,
Duane Johnson
and
Micah Covert
# in Penn Wood's 1,000-point club. (Ferrell started at Yeadon and finished his career at Penn Wood; Covert started with the Pats and capped his career off with Chester).
Johnson's per-game average is down from a year ago. It doesn't have either him or Penn Wood coach
Clyde Jones
worried.
"Listen, it doesn't really matter. I'm a point guard," Johnson said. "My job is to get everybody involved anyway. My points are going to come during the flow. I get them the ball, they get it to me. It's as simple as that."
Added Jones: "The greatest compliment I can give Tyree this year is how, for the most part, he has really decided that he has other people to get the ball to. He sees himself as a distributor. And in this day and age, when it's tough to get kids to not think I have to shoot, to see him do that is special. The sad part about that is it doesn't put him in anybody's rankings for scoring, but it makes him perfect for us and what we do. The other night, I actually had to tell him to shoot the ball."
Johnson is getting interest from Monmouth, Rider, Hartford and Siena.
###################

Also, here's some more from the boys basketball scene:
---Daily Times photographer
Bob Gurecki
grabbed some video and
assembled highlights from Sunday
's Penn Wood-Chester game.
---This week marks the first installment of the boys basketball notebook -
the feature
focuses on The Haverford School's
Andrew Acker
, probably the county's most improved player thus far.
The notes
include Glen Mills'
Raheem Harvey
, who sustained a car accident during the holidays and remains hospitalized, and Chichester's
Brian Parker
, who has an outside chance at 1,000 points.
Labels: Andrew Acker, Bob Gurecki, Brian Parker, Clyde Jones, Notebook, Raheem Harvey, Tyree Johnson