PART 1, PENN WOOD/CHESTER AT SJU'S HAGAN ARENA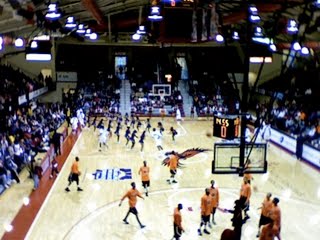 Today, the Daily Times is at Hagan Arena at Saint Joseph's University. Rather, we're bringing you to Hagan Arena.
The first meeting between longtime Del Val League rivals Penn Wood and Chester will be written about, photographed and video-taped for your sporting pleasure. Check back throughout the night for the latest, pick up a copy of Monday's Daily Times for the print coverage, and visit delcotimes.com for some video and audio coverage of the game.
It's sure to be a good one.
HALFTIME UPDATE: Penn Wood 39, Chester 24
-- The Patriots took an 8-0 lead only 80 seconds into the game. Will Brown has 17 points, Shawn Oakman has seven rebounds and three blocks and Dequan Pelzer has five rebounds and three steals for Penn Wood. Chester's Mo Nelson has 10 points despite missing all of the first quarter for an unspecified reason.
FINAL: Penn Wood 66, Chester 48
-- Pick up Monday's Daily Times for the complete breakdown...