Q+ A WITH ARCH. CARROLL'S D.J. IRVING (PART 1)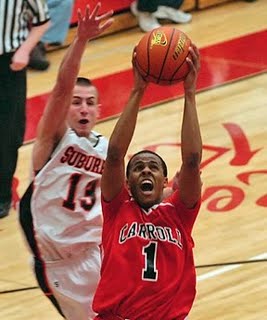 It's difficult to miss Archbishop Carroll's
D.J. Irving
, especially last week at the Jameer Nelson/Pete Nelson Classic. The affable, effervescent point guard was all over the place, bouncing around the gym and talking with everyone.
Irving, an All-Delco, led the Patriots to the PIAA Class AAA state championship a year ago. He's got his sight set on doing it again, too. Here's the first installment of what the early Boston University commit had to say about Carroll's play in the early going:
Q: Are you guys where you want to be?
A: No way. A lot of the guys in our program are inexperienced. The defensive schemes and the rotations are not there yet. I'm happy that we won the games we won, because we really should have lost. We're not going our hardest. That's the main thing. And rebounding, we're struggling there. The team defense can be a whole lot better.
Q: Can you tell now whether this team can repeat?
A: Not yet. I think near January and February, we'll be there, because we'll be so used to it.
Q: Who's been the biggest surprise on your team?
A:
Matt Donaldson
(6-4, 220) is a football player. He wasn't with us last year. At the beginning of the summer, and I'm not even lying, he struggled to make a layup. He's improved a lot. He's helping on defense, on the rebounding and he's finishing.
Q: Who do you stay in touch with from last year's team?
A: I try to talk with
Kasheef
(
Festus
, a walk-on who's redshirting at Coppin State) and I try to keep up with what
Andre
(
Wilburn
, a freshman at Delaware State) is up to. I miss them already.
PHOTO BY TIMES' PHOTOGRAPHER

ERIC HARTLINE
Check back with us Saturday for the second installment of my Q+A with Irving.
Labels: Andre Wilburn, D.J. Irving, Eric Hartline, Kasheef Festus