PENN WOOD LOSES THREE AT CITY OF PALMS CLASSIC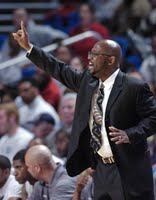 No one told Penn Wood that defending its PIAA Class AAAA championship was going to be easy. They're not even into the Del Val League portion of their schedule but the Patriots are fighting an uphill battle.
Coach
Clyde Jones
(pictured) and the Patriots went 1-3 this week at the
City of Palms Classic
, an exclusive, invite-only basketball tournament held in Fort Myers, Fla. Only the best of the best make it there. That's why the Pats got the call this offseason.
Among their losses were defeats at the hands of Paterson Catholic (N.J.) and Westchester (Calif.), both ranked within the top 50 in the nation by ESPN/Rise Magazine. The Patriots also lost to St. Frances (Md.) Wednesday.
Here's how Jones sizes up Penn Wood's performance down south:
On his level of frustration after these games were:

"Well, (Wednesday) we lost on a last-second shot to St. Frances. Against Paterson Catholic, we were up 20 and we turned over the ball late.
Shawn
(
Oakman
),
Darian
(
Barnes
) and
Dequan
(
Pelzer
) all fouled out. And (Tuesday), against Westchester, we tied it late and had another turnover. It's really been turnovers in late minutes that have hurt us."
On accepting these losses because of who they were against:

"No losses are acceptable for me. But it's something the kids needed to experience. It's a measuring stick for us. It'll help us when we play teams back home. We were a turnover away from beating Westchester, the No. 6 team in the country (according to ESPN/Rise Magazine). And we were taking apart Paterson Catholic, another nationally ranked team, for three quarters. It's probably the best three quarters I've seen us play since I've been at Penn Wood. I feel for the kids because they deserved to win one of these games. They deserve them."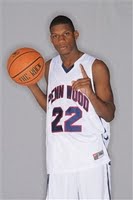 On the play of junior forward Aaron Brown (pictured), who averaged 20.3 points and 7 rebounds in four games:

"He hit a wall (Wednesday), but he's really made it known that he's become a big-time recruit and a big-time player. The last two games, teams have seen what he can do. And it's not just Aaron. With Shawn, we've had coaches ask us why he isn't a top-10 Division I recruit. In
Will Brown
, you're starting to see what he can do when he comes out of his shell."
On what he heard from college coaches while there:

"
Tom Crean
from Indiana told me he hasn't see a team play this well together in a long time. He also said it was encouraging to see kids interacting with each other and pushing each other the way our guys do. I also heard from coaches at Auburn, who saw our game against Paterson Catholic, that we were one of the best functioning high school teams in the country. The people running the tournament told us our kids were the most well-mannered, well-behaved team that's ever come through. That all means a lot to me, because when you're a coach, you're a lifelong learner. And it shows that our kids can learn, too."
Penn Wood (3-3) returns to action Monday against Academy of the New Church at Widener.
Labels: Aaron Brown, City of Palms Classic, Clyde Jones, Dequan Pelzer, Penn Wood, Shawn Oakman, Tom Crean, Will Brown