PLYMOUTH-WHITEMARSH LOSS ONE FOR AGES FOR CHESTER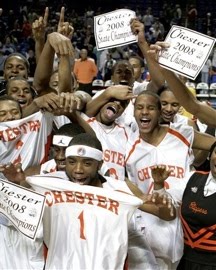 Chester's loss Saturday at the Jameer Nelson Classic threw up a couple red flags, but not because the Clippers lost at the tournament bearing the name of one of their most famous alums.
Losing 65-46 to Plymouth Whitemarsh was the Clippers' first loss of 19 or more points against a District One foe in 13 seasons. Not since Chester lost to Glen Mills, 71-49, on Jan. 9, 1997, had the Clippers been completely dominated by a team within their own district.
Of course, the Clippers are not perfect. They've lost a number of games over the years. But most of them have been in national tournaments to ranked teams from other states, or to familiar foes from the Catholic League, Public League or Inter-Academic League.
Consider the following: Since that 22-point loss to The Mills in January 1997, the Clippers have...
...played 403 total games.
...gone 59-5 in the District One playoffs.
...won seven District One Class AAAA titles.
...gone 33-10 in the PIAA playoffs.
...advanced to the PIAA Final Four seven times.
...claimed three PIAA Class AAAA titles.
...had four Daily Times' Players of the Year (2000 Nelson, '03
Shaheer McBride
, '06
Darrin Govens
, '08
Karon Burton
).
...lost just twice by double-digits to a District One opponent (Council Rock 67, Chester 51 - Feb. 10, 2001, and last Saturday).
It took some research to find all of this, but it was well worth it ... because the Clippers' loss to Plymouth Whitemarsh was more than just a loss. It was one for the ages.
Labels: Chester, Darrin Govens, District One, Jameer, Karon Burton, Shareer McBride