AT WIDENER, FOR THE JAMEER NELSON CLASSIC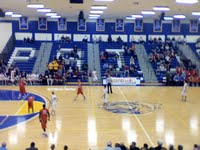 Welcome to Schwartz Gymnasium at Widener University, the site of Monday's installment of the Jameer Nelson Classic.
I'll be on hand for a couple of the games. Stay close to Gettin' Schooled for odds and ends on each of them and check back regularly for results.
NESHAMINY 63, LOWER MERION 58
: Without leading scorer
Alon Seltzer
, the Aces did everything they could do to stay competitive, before suffering their first loss. Lower Merion, on first glance, has a really well-balanced team. But the Redskins'
Ryan Arcidiacano
is better. The sophomore guard had a game-best 21 points and could be on his way to reaching 1,000 points before his junior year. Seltzer has been out since dislocating his knee cap in a game against Upper Darby.
ST. JOSEPH'S PREP 62, MARPLE NEWTOWN 42
: Defending the 3 isn't a recommendation. In this game, it was. The Hawks made 2 of 19 3-point attempts before giving way to their bench. Senior
Joe Nardi
knocked down seven of them on his way to 23 points. For Marple
Ryan Hanley
and
Soutiri Sapnas
had 15 and 11 points, respectively. Check out Tuesday's
Daily Times
for a full report.
ALSO ON THE SCENE
: Archbishop Carroll All-Delco
D.J. Irving
, wearing a red Boston University hat ... Penncrest senior guard
Rodney Duncan
... Ridley coach
Keith Heinerichs
, doing some advanced scouting, as were dozens of other District One coaches ... Widener guard
Chris White
. A member of Penn Wood's state-title team a year ago, White was wearing his letter jacket - and getting hassled by Widener athletic personnel for doing so. "Don't you have any Widener gear?" one asked.
Labels: Alon Seltzer, D.J. Irving, Jameer Nelson Classic, Keith Heinerichs, Lower Merion, Rodney Duncan, Ryan Arcidiacano