Q + A WITH ARCH. CARROLL'S D.J. IRVING (PART 2)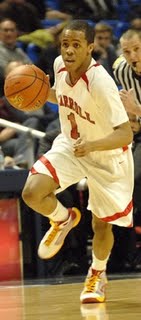 Friday, we kicked into the new year with the first installment of a question-and-answer session with Archbishop Carroll All-Delco
D.J. Irving
. Here's the final helping of my interview with Irving:
Q: I see your (Boston University) hat. Have you been in contact with the coaches?
A: Yeah, they keep telling me they can't wait for me to get up there. They tell me they kind of need me right now. They're struggling because they don't have anybody who can get to the basket. It's all shooters up there.
Q: I talked to
Soutiri
(
Sapnas
, Marple Newtown's senior) earlier about coaches telling him he's not big enough, not strong enough for Division I. You heard that, too, early on. Any advice for guys like that?
A: I think he's a Division I player because of his ability to score the basketball. He's not getting the looks he should because he's 6-1 and he's not really a point guard. He's a two. He can score flat out and that's enough to get him D-I.
Q: What team in the county is your dream matchup?
A: Penn Wood, because I like going against
Tyree
(
Johnson
, the reigning Daily Times' Player of the Year). He brings the best out of me, and I bring the best out of him. We usually go at it any time we can. And I would love to play against Chester at Chester High. That would be a dream. I don't know why they're not on our schedule. I heard a rumor that they don't like playing teams that have kids from Chester. It's me,
Yosef
(
Yacob
) and
Anthony Butler
. We're all from Chester.
Labels: Anthony Butler, D.J. Irving, Soutiri Sapnas, Yosef Yacob