RIDLEY'S GUNTER STICKS TO HIS VERBAL WITH PENN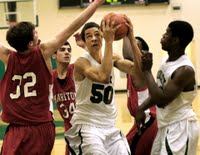 No matter how many games Penn loses,
Cameron Gunter
isn't budging. The senior center at Ridley, who last fall made a verbal commitment to the Quakers, has not altered his stance regardless of how poorly they have played this season.
Consider that Penn has a 1-10 record and its only win came against Maryland-Baltimore County (1-13). In a rare midseason move, the Quakers fired coach
Glen Miller
and hired assistant coach and former Penn standout
Jerome Allen
as his replacement in the interim. Despite so much turmoil, Gunter is staying put with his choice of attending Penn.
"I think I can offer some assistance, give them some help, you know?" Gunter said after Thursday's 47-38 win over Harriton. "I know with the whole coaching staff thing, that's been tough for them. I mean, getting off to a bad start and then the coach being fired, that's tough. But we'll bounce back."
The Green Raiders' schedule, beginning next week, takes on a distinct Ivy League look, with Ridley playing on back-to-back days in three straight weeks. Gunter has tickets for Penn's home game next Wednesday at the Palestra against No. 21 Temple.
Labels: Cameron Gunter, college commitments, Glen Miller, Jerome Allen, Penn, Ridley