BEYOND THE BOX SCORE: HARRITON AT RIDLEY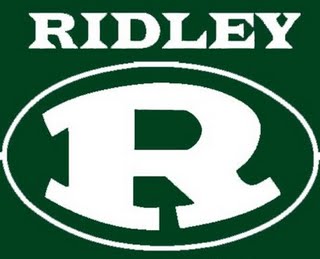 For a look at Thursday's game between Harriton and Ridley, a 47-38 Ridley win, check out the Friday edition of the Daily Times. For a closer look read the following:
Ridley junior forward
Norm Donkin
has missed all nine of the Green Raiders' games this winter, wearing a green cast on his right wrist. It turns out Donkin broke it in the first game of the Raiders' football season, during which they advanced to the PIAA Class AAAA semifinals
"I jammed it the first game of the year," he said. "I took a week off and didn't do anything with it. It started to feel better. I think I just made it worse all year by playing with it."
Donkin gets the cast off next Wednesday, at which point he'll be reevaluated. Also missing in action for Ridley was
Dan Staiber
, a sophomore guard who suffered a concussion last Tuesday. He could be cleared to play early next week.
###################

Harriton's
Matt Fusaro
shot 6-for-10 in the first half and 1-for-8 in the second half. The light-'em-up scorer for the Rams, who also averages eight rebounds per game, is getting a serious number of Division III looks.
Fusaro tweaked his right ankle on one of the last plays of the game, coming down from a 3-point attempt on someone's foot.
"We hope it's nothing more than (a sprain)," Harriton coach
Jesse Rappaport
said. "We'll see when we get back (to school)."
###################

According to Rappaport, the Rams shoot 80 percent from the free-throw line. Proficiency from the strip was the original thought for why Harriton doesn't line anyone up on the blocks for a rebound.
Rappaport sees it differently, wanting his players to worry about setting up for a defensive stop rather than battling for a rebound "that we probably won't get anyway, or we'll get whistled for over the back or something."
Against Ridley, the Rams were 8-for-11 from the line.
Labels: Beyond the Box, Dan Staiber, Harriton, Jesse Rappaport, Matt Fusaro, Norm Donkin, Ridley