BEYOND THE BOX SCORE: CHESTER AT PENN WOOD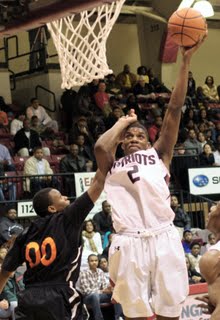 Here's an up-close look at the Chester/Penn Wood game:
Early in the second quarter and with the game's outcome still in doubt, Penn Wood junior forward Aaron Brown (pictured) was whistled for a technical foul. The call was questionable, causing spectators and reporters, alike, to scratch their heads.
Brown is not an overly aggressive player. And players from both sides were jawing. Turns out he was whistled for running into his teammate,
Shawn Oakman
, which had to have been perceived as a sign of boasting, because there was no blatant contact between players from opposing teams.
"They all talk (trash) and any kind of bump would be seen as a form of aggression," Penn Wood coach
Clyde Jones
said. "Aaron is always emotional. But I know his emotions are going to lead to production."
#################

BY THE NUMBERS

10-11: Chester's proficiency at the free-throw line, a 91-percent clip.
19-34: Penn Wood's proficiency at the free-throw line, a 55-percent clip.
37-21: Penn Wood's rebounding advantage.
1: Technical foul, against Penn Wood's
Aaron Brown
.
3:28: Time it took Chester to get on the board.
4: Points scored by
Will Brown
during a dynamic second-quarter play. He hit a 3-pointer from the right side of the arc and, after sustaining a foul by Chester's
Laquan Robinson
, made the subsequent free throw.
#################

The arrangement to bring the first meeting of the season between these two Pennsylvania titans to Saint Joseph's University was the product of internal connections. Penn Wood alumnus
Rap Curry
, also the Patriots' athletic director, played a fruitful college career on Hawk Hill. So did
Jameer Nelson
, whose younger brother,
Maurice Nelson
, plays for Chester.
The younger Nelson, who had 17 points, was playing on the floor of Hagan Arena - formerly the Fieldhouse - for the first time in his life. And hanging about the court, in the rafters, is a banner bearing his brother's No. 14 and his likeness.
"I didn't even look up there today," Mo Nelson said. "I have in the past. Not today."
PHOTO BY DAILY TIMES' PHOTOGRAPHER BOB GURECKI
Labels: Aaron Brown, Bob Gurecki, Chester, Clyde Jones, Jameer Nelson, Laquan Robinson, Mo Nelson, Penn Wood, Rap Curry, Shawn Oakman