Q+A WITH PENN WOOD JR. CENTER SHAWN OAKMAN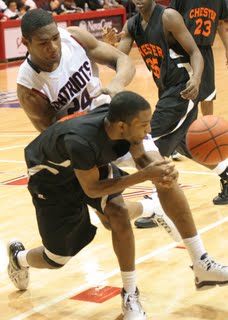 Take one look at
Shawn Oakman
and you'll likely run the other way. He's scary big. At 6-9, 240, Oakman is the real deal when it comes to post players in Delaware County.
A Penn Wood junior, Oakman spent a couple minutes with me following the Patriots' 66-48 victory over Chester Sunday. We talked everything from his offense to his defense, his turning point, where he'd like to play college basketball ... and even what jersey number he's lobbying for:
Daily Times:
Do you feel like you've turned a corner
Shawn Oakman:
I'm definitely more patient. I read the defense better and make a better decision with the ball. I used to rush. Now, I'm finishing better. The whole coaching staff has told me to relax. It all started when I came back from Florida (the City of Palms Classic). The first two games, I didn't do too good. The last two games, I got dunks. So that's why I try to get a dunk every game. I had a reality check down in Florida.
DT:
What part of your game are you most proud of - scoring? Rebounding? The blocked shots?
SO:
I like my defense. But eight points? I know I can do better than that. I can get double-digits every night. I missed (four) free throws and that was the difference.
DT:
So a triple-double is within reach for you?
SO:
Oh, most definitely. I'm trying to be like
Rap Curry
. When he was (the Daily Times) Player of the Year, he averaged a triple-double. He's said to me, 'As soon as you get a triple double, you can wear my jersey.' So now I'm working on wearing that No. 33.
DT:
When's the offense going to come your way?
SO:
Oh, I tell all the guys to give me the ball. I say, 'Look my way' because if it's not there for me, I'll just kick it out to them, you know? Someone's going to be wide open, so feed me the ball first.
DT:
What schools really like you?
SO:
Saint Joseph's, Miami (Fla.), Providence, Georgetown, Houston, Rice, Marquette and Pittsburgh. They've all called. I think only St. Joe's has seen me play. Miami is supposed to come out.
DT:
The way you played this football season, earning All-Delco honors, you've got to be leaning that way, right?
SO:
No, I'm stuck in the middle. I don't want to do both, either. I want to focus on one. I'll make the choice senior year. That's when I'll make my decision.
######################
If you pick up a copy of Wednesday's Daily Times, you'd read about:
---Penncrest suffering its
first loss of the season, 54-32
, to Lower Merion. The Lions got close and even took the lead, 26-25, in the third quarter, before the host Aces ripped of 20 of the game's next 23 points. (Check back to the blog today for more on this game.)
---Sun Valley's
Chris Nelson
hit the game-tying and game-winning shots to
lift Sun Valley in overtime
.
Labels: Chris Nelson, Penn Wood, Q+A, Rap Curry, Shawn Oakman