BEYOND THE BOX SCORE . . . PENN WOOD @ GLEN MILLS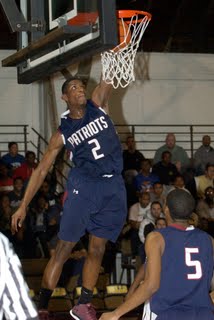 Despite what the subject line reads, this post is going to be about breaking down the box score from Thursday's Del Val League game, which went Penn Wood's way, 73-40.
The Patriots beat down the Bulls in every way imaginable. They shot 45 percent (30-for-66) while holding the Mills to 27 percent (12-for-44). They forced the Mills into 27 turnovers while committing only 11 of their own. They had an assist (15) for every other bucket. They outrebounded the Bulls, 33-26. And they killed the Bulls from long range, hitting 8 of their 20 shots from 3-point land.
"There's a bulls-eye on us, so every time we step on the court, we have to be ready to go get it," said Penn Wood point guard (and reigning Daily Times Player of the Year)
Tyree Johnson
. "I don't care who it is. i don't care if we're playing against girl scouts. If they step on the floor of this jawn, they have to be ready to play us."
The fact is, the Patriots are. Always have been. They pushed the ball up the floor, determined the pace of the game while killing any blow Glen Mills tried to accrue. They seemed every bit of the defending PIAA Class AAAA champions. And, until someone takes that from them, they will be.
Aaron Brown
, pictured, and
Will Brown
had 17 apiece to lead the Patriots.
###############

EXTRA BOUNCES

---It was good to see former Glen Mills coach
Craig Mellinger
out and about at Harrison Athletic Center. I didn't talk to him too much, but he said he's enjoying spending more time with his two high-school-aged children than he used to.
---I don't like putting together 'Best of...' lists, unless it's the end of the season. But if I had to pick the best places in Delco to watch a boys basketball game, I'd put Glen Mills at or near the top. Whether they're ahead or down (by a lot, as was the case Thursday) the crowd is into it, the music is blaring and the place is jumping. Chester's at the top, too. And I'd say a distant third from those two obvious choices is Penncrest. There are so many good vantage points there.
Labels: Aaron Brown, Craig Mellinger, Tyree Johnson, Will Brown