A CLOSER LOOK AT TEMPLE'S RAHLIR JEFFERSON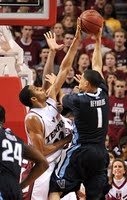 For you Delco basketball fans out there looking to get caught up on some of the county's finest who have moved onto college, this semi-regular feature is for you. Today, we take a peak at Rahlir Jefferson:

It's not often that a freshman on Temple coach
Fran Dunphy
's squad gets minutes. But in
Rahlir Jefferson
's situation, he isn't just playing; he's making a difference.
The 2009 Chester graduate and All-Delco forward, Jefferson averages 16 minutes a game for the 16th-ranked Owls. He's become a defensive specialist, checking into the game late to lock down on the opposition's best scorer. Despite playing only 300 minutes, Jefferson is second on the team with 13 steals, and also fills out the stat sheet with 3.8 points, 2.7 rebounds and 1.0 blocks.
Who knows? With the way he and the Owls (16-3) are playing, we might be talking about Jefferson deep into March.
But, hey -- this post isn't just about the past. Here's a closer look at some of the action from Wednesday night:
##############

It may be a couple months - and with less on the line - but Chester got some revenge on Williamsport.
The Clippers (8-3) easily handled the Millionaires in a game on a neutral court, at Coatesville High, as part of the Mid-Atlantic Shootout. Chester lost to Williamsport last winter in the second round of the PIAA Class AAAA playoffs.
Erikk Wright
, a sophomore, continues to impress. He had 12 points and 15 boards.
Tavaune Griffin
had seven rebounds and three blocks and
Mo Nelson
led the way with 15 points
##############

EXTRA BOUNCES

---Five of Upper Darby's eight losses have come by two possessions or fewer. Count the Royals' 44-43 loss to Springfield tonight among them. The Cougars'
Adam Washington
had 15 for the victors.
---Radnor, which scored 12 points in the first quarter, scored only 11 in the second half of its 37-29 loss to Ridley.
---Marple Newtown's
Soutiri Sapnas
, already the leading scorer in Delco, filled up the rim with 46 points in an 80-74 loss to Conestoga. Sapnas, the Tigers' all-time and single-season scoring champ, fell short of his 49-point career high, however.
Labels: Adam Washington, Erikk Wright, Fran Dunphy, Mo Nelson, Rahlir Jefferson, Soutiri Sapnas, Tavaune Griffin