A CLOSER LOOK AT LA SALLE CENTER AARIC MURRAY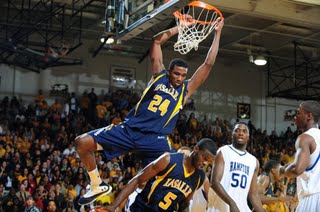 For you Delco basketball fans out there looking to get caught up on some of the county's finest who have moved onto college, this semi-regular feature is for you. Today, we take a peek at Aaric Murray:

Glen Mills product
Aaric Murray
has come a long way from his early high school days, when he had never played organized basketball. After three years in Thornbury Township - leaping between varsity and JV as a sophomore to scoring 1,000 career points and being named an All-Delco twice - Murray has taken his game to the Division I level.
And boy, isn't La Salle happy he signed with them.
One of the nation's top recruits at the center position from the Class of 2009, the 6-10 Murray has started all but two of the Explorers' 18 games, averaging a third-best 12.2 points per game. The reigning Atlantic 10 Conference Rookie of the Week, he leads La Salle with per-game averages of 7.2 rebounds and 2.7 blocks.
He's the leading candidate - in this reporter's opinion - for the league's rookie of the year award. Here's hoping he gets it - because he deserves it.
Labels: A Closer Look, Aaric Murray, Glen Mills, La Salle