"WAKE UP! THERE'S A GAME BEING PLAYED DOWN THERE"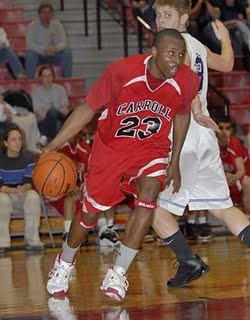 What's that old parable? It has something to do with a tree falling in the woods... Anyway, a high-school boys basketball game started Saturday and ended Sunday. It didn't go to overtime. And it certainly wasn't televised, so there weren't any television timeouts.
So why did
Archbishop Carroll
's nonleague game against Mount Lebanon require two calendar days to complete? It's the fault of showcase tournaments, creating glossy games that have more to do with feeding bodies through turnstiles than with maintaining the well-being of the student-athletes involved in the game.
Maybe it's just this reporter's opinion, but it seems absurd that a high school game be started - and finished - so late in the night. Maybe the players actually enjoy a break from the monotony of 3:45 and 7:30 p.m. starts. Maybe the fans enjoy taking in a game that requires a few coffee trips to prevent snoring while watching.
I don't. I'm old school that way. It's a shame Carroll's
Juan'ya Green
, pictured, one of the county's finest scoring guards, posted 26 points and made 15 of his 17 shots from the free-throw line ... and nobody probably saw it. It's a shame All-Delco
D.J. Irving
scored 16 points and added five steals and four assists for Archbishop Carroll ... and nobody read about it in the newspaper.
#######################
In games that started (and ended) Sunday:
Penn Wood 86, South Philadelphia 48:
The Patriots absolutely pummeled their Public League foes in a game at Villanova's Pavilion. Four scorers hit for double figures, including All-Delco
Tyree Johnson
and forward
Aaron Brown
.
Parkland 61, Chester 59 (OT):
The Clippers lost for the third time in five games and their second straight, in an overtime game at Parkland.
Erikk Wright
, a sophomore forward who scored 21 points and grabbed 12 rebounds, continues to emerge as a formidable player in the paint.
Labels: Aaron Brown, D.J. Irving, Erikk Wright, Juan'ya Green, Tyree Johnson