RECRUITING PICKS UP FOR PENNCREST'S ATKINSON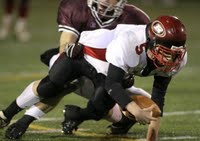 Penncrest senior
Matt Atkinson
knows he's going to college to play football. He was the Central League's First Team quarterback. He made the All-Delco football team as an all-purpose player. And he had - statistically speaking - one of the strongest seasons in recent memory for a player under center.
So performances like Friday's, in a 55-36 win over Strath Haven, are kind of fun. Atkinson scored 14 points, had four boards and four assists in the rout.
"It's kind of disrespectful, you know? If they're going to leave me open, I'm going to shoot," said Atkinson, who made four 3-pointers in the win over Haven. "I guess they didn't watch (video of) any other games. They didn't know to get a guy on me.
"I don't know. I was just ready to shoot tonight. The last two practices, I got a lot of shots up, so I felt good."
Atkinson said he likes the football programs of four schools --- Del Val, Albright, Wesley and Lycoming --- that are pursuing him. He likes the campus at Albright, where he visited last week. He said he doesn't have a preference, but has to get through all the visits.
In the meantime, he's got some games to win with the Lions (17-2).
UP THE ROAD:
Pick up a copy of Monday's Daily Times. Inside, you'll see a story on Atkinson, who was selected as our Daily Times Athlete of the Week.
Labels: Athlete of the Week, Matt Atkinson, Penncrest