FORECAST OF SNOW CAUSES POSTPONEMENTS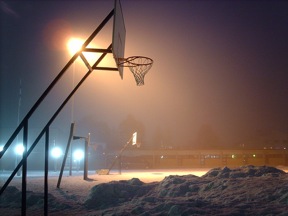 There's somewhere from 8 to 18 inches of snow headed our way, and high school basketball teams have taken the necessary precautions.
Friday night games that have been
postponed
include:
**Garnet Valley at Haverford
**Lower Merion at Ridley
**Delco Christian at Phil-Mont Christian
**Strath Haven at Radnor
**Upper Darby at Conestoga
**Atlantic Christian at Christian Academy
**Harriton at Marple Newtown (Saturday)
And for those brave souls out there, here are games that
will be played
Friday, with their new start times to follow:
**Monsignor Bonner at Father Judge, 3:45
**Penncrest at Springfield, 5:30
**Cardinal O'Hara at St. Joseph's Prep, 3:15
**Haverford School at Chestnut Hill Academy, 4 p.m.
Stay close to Gettin' Schooled. If something else breaks, you'll hear it here first.
Labels: Inclement weather, postponements, snow