ONE COACH'S TAKE ON THE DISTRICT ONE BRACKET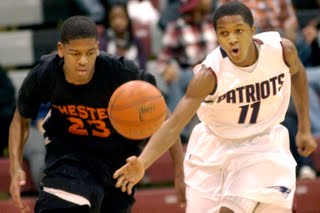 Penncrest assistant coach
Jason Ritter
is an algebra teacher, which means he fiddles with numbers for fun. (Crazy, right?) Curious where his Lions would be seeded in the upcoming District One Class AAAA playoff bracket - if the season ended today - Ritter went to work.
He volunteered his time and effort to assemble the top 20 seeds of the district-playoff field. He utilized various Web sites to piece together a points system that, while it's highly unofficial, should provoke some water-cooler talk among the types who enjoy that sort of thing.
Will Brown
and Penn Wood and Del Val League rival Chester, and
Robert Pittman
(pictured above), will factor in somewhere.
Here's what we're Ritter found, based on teams' records through Sunday:
1 Plymouth-Whitemarsh (14.4697 points)
2 Penn Wood (13.0*)

3 Neshaminy (12.79215)
4 Souderton (12.6101)
5 WC Rustin (12.3706)
6 Council Rock North (12.0545)
7 Coatesville (11.609)
8 Lower Merion (11.5519)
9 Bensalem (11.3967)
10 Penncrest (11.3747)

11 Central Bucks South (11.265)
12 Chester (11.207)

13 Norristown (10.9497)
14 Upper Dublin (10.6237)
15 Downingtown West (10.319)
16 Spring-Ford (9.9997)
17 Pennsbury (9.9008)
18 Owen J. Roberts (9.8868)
19 Wissahickon (9.8465)
20 WC Henderson (8.1725)
And here's what we can disseminate from all of this:
*** Penncrest would have the 10 seed for the second straight year. Despite the Lions' gaudy record, their only win against a team on this points table is No. 20 West Chester Henderson.
***Chester, at No. 12, would have its lowest seed in recent memory. However, who among us would want to face the Clippers in March? No takers? Didn't think so.
***Plymouth-Whitemarsh is good. Quite good. The Colonials' only loss is to perennial national power St. Benedict's (N.J.) And Penn Wood, well, let's just say it wouldn't surprise anyone to see an all PW district final.
***Neshaminy is kind of a surprise. The Redskins have a couple senior leaders who provide nice balance. But they primarily lean on
Ryan Arcidiacano
, a sharp-shooting sophomore. Sorry, but you can never count on an underclassman in the playoffs.
For dates and bracket specifics,
visit District One's Web site
.
Labels: District One Class AAAA playoffs, Jason Ritter, Robert Pittman, Ryan Arcidiacano, Will Brown