BEYOND THE BOX SCORE . . . PENN WOOD AT CHESTER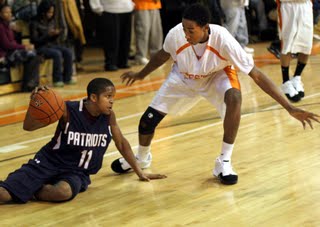 Here's a closer look at Penn Wood's 57-40 win over Chester Thursday:
***LAUGH IT OFF. Clippers forward
Ronnell Williams
experienced the joy and ire of coach
Larry Yarbray
in one trip to the free throw line. When the sophomore banked in a foul shot, Yarbray laughed and smiled at his young big man. And when Williams clanked the next one, Yarbray screamed at him to get down the floor and defend.
***COLLEGE ROLL CALL. Three members of the nationally-ranked Temple Owls' rotation were at the Clip Joint. Chester All-Delco
Rahlir Jefferson
sat beside former Clippers coach
Fred Pickett
, while
Scootie Randall
and
Ramone Moore
(Jefferson's teammates with the No. 19 Owls) were seated in the row in front of him.
***1,000 POINT CLUB, PART I. Before the game, Chester honored
Maurice Nelson
, who scored his career 1,000th point Tuesday in a road game at Interboro. But
Tyree Johnson
got the best of Nelson. Johnson, who scored his 1,000th point in an earlier meeting with Chester, had the better game this time around, too. ...And he did so less than 24 hours after making his college commitment.
***SUPER 7 DISCUSSION. Speaking of Pickett, the longtime Clippers coach asked me why Chester had slipped to No. 4 in the latest Daily Times' Super 7. After giving my explanation, Pickett walked away. He wanted nothing of it. But he's a good sport. He came back a minute later, smiling. (Like any good coach, he knows not to take sports too seriously. That's the key.)
***1,000 POINT CLUB, PART II. One of Darby Township's finest was a referee Thursday.
Derick Loury
, who scored 1,137 points in his career with the Eagles, worked the game at the Clip Joint.
(Note: PHOTOS BY DAILY TIMES STAFF PHOTOGRAPHER
BOB GURECKI
. Check delcotimes.com Friday for video from the game.)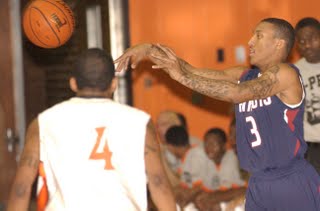 Labels: Bob Gurecki, Derick Loury, Fred Pickett, Larry Yarbray, Mo Nelson, Rahlir Jefferson, Ramone Moore, Ronnell Williams, Scootie Randall, Tyree Johnson