COUGARS ON WAY UP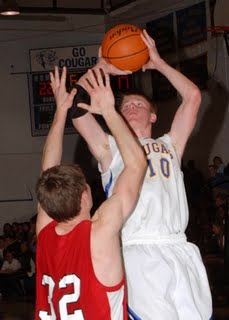 If you stopped out to Acme last night - or decided to stay in and avoid the apocalyptic-type snow that was forecast - you probably missed this one.
It was a doozy.
Springfield knocked off Penncrest, 57-48
, Friday in a night game-turned-matinee in the Cougars' home gym. Snow kept the game, part of the Central League's Coaches v. Cancer fundraiser, from being played after dark, but it couldn't keep the Cougars from pulling the upset.
With the win, Springfield (15-6, 11-4) locked up a spot in next week's Central League championship tournament. Also, the Cougars have won 11 of their last 12, after dropping five in a row from Dec. 22 to Jan. 5.
Senior forward
Wally Rutecki
, pictured, had the big game for the Cougars, with 22 points and eight rebounds.
Brendan McNamee
and
Zack DeVito
tossed in 18 and 11, respectively, for the victors.
How bad did things get for visiting Penncrest (18-3, 12-3)? The Lions trailed, 24-13, at halftime and 41-21 entering the fourth quarter.
Andrew Radomicki
scored 22 for Penncrest.
Labels: Andrew Radomicki, Brendan McNamee, Springfield, Wally Rutecki, Zack DeVito