CHESTER SHOWN THE DOOR IN PIAA FIRST-ROUND GAME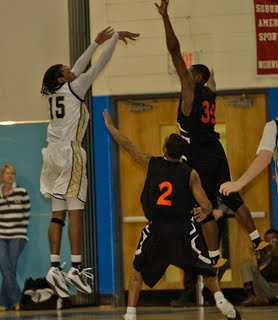 Just like that, Chester's season was over.
With the flick of Troy Hockaday's right wrist (pictured), La Salle took its first lead of the game Sunday - with four seconds to go - and topped Chester, 42-41, in an opening-round contest in the PIAA Class AAAA bracket. The Clippers suffered their first, first-round exit from states since 2004.
Hockaday, who was wildly inconsistent, shot 4-for-14 in the contest. Three of those buckets, resulting in 8 of his 13 points, came in the final 4:33 of the game. Hockaday almost single-handedly whittled away Chester's nine-point lead.
Here's what some had to say afterward:
SENIOR FORWARD RONELL WILLIAMS

"It's a life-learning experience. I just have to prepare for the future and prevent this from happening again. ... They're going to be back next year. Chester's going to be back."
SENIOR GUARD LAQUAN ROBINSON

"What I'll remember about this year is the young guys, and playing for them. Hopefully they can have a better season than we had."
JUNIOR GUARD MAURICE NELSON

"I tried to get the ball up the court as fast as possible and I saw Laquan, so I got it to him. And he got off a good shot. He just missed it. It hurts more than a normal loss.
"(Hockaday) wasn't making those shots. He was taking it to the basket the whole game. He just made a good shot there at the end.
"We talked about that, getting back here. It's a young team, that's all. We took our bumps and bruises all season. It was a roller coaster. We have to play some summer league games, some AAU ball, get back in the gym and get over this."
COACH LARRY YARBRAY

"I wasn't surprised with (Hockaday's) shot. I'm just surprised it went in.
"We had a lot of youth, and with it comes a lot of problems. You're trying to get them to play your style. Most of them are used to playing an AAU style. As far as their knowledge, we had to put a lot of time in to get them to understand. When we execute, good things happen. We get layups, uncontested layups. We get jumpers. When they play for their self, that's a problem. They just want to stand around, not set your screen or play good team defense or help out on the backside or do this or that. It's one- or two-minute breakdowns at the wrong time."
########
The Clippers graduate only two seniors from their 16-11 team - Laquan Robinson (pictured) and Ronell Williams. They played six sophomores and five freshmen this year. So, like Yarbray and Nelson said, Chester will be back next winter.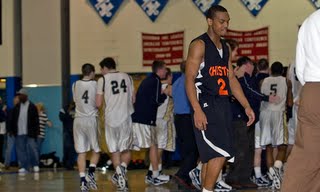 Labels: Chester, Laquan Robinson, Larry Yarbray, Mo Nelson, Ronnell Williams