COUGARS LOOKING FORWARD TO SECOND SEASON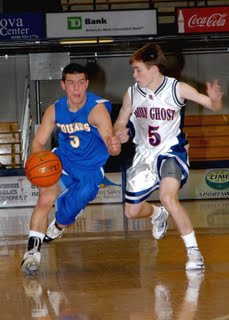 Yes,
Springfield
lost the District One Class AAA championship game Saturday. Yes, it was within reach. Yes, the Cougars have won only two district titles since 1945.
But, hey - why hang your head about a five-point loss to top-seeded
Holy Ghost Prep
? There's still the PIAA playoffs. It's new life for these Cougars.
"Maybe in a day or two, we can start talking about it and getting ready for it," said junior forward
Adam Washington
, who scored 15 points. "This was the game we wanted to win. We just didn't do it."
Junior guard
Zack DeVito
was so stung by the loss that, on two occasions in post-game interviews, he forgot the questions he was trying to answer.
"This one hurts because this was a goal of ours from the beginning of the season," said senior forward
Wally Rutecki
. "It didn't happen for us, but we can focus on states now."
Springfield (18-8) begins its PIAA journey Friday.
Labels: Adam Washington, District One Class AAA playoffs, Holy Ghost Prep, Springfield, Wally Rutecki, Zack DeVito