VIEWS FROM THE PATRIOTS' DISTRICT VICTORY
Friday night, Penn Wood put the finishing touches on its first District One Class AAAA championship in 18 years ... and the
Daily Times
was all over it. (
Game story
and
column
can be found here.)
The
Times
was on the baseline, too, with staff photographer
Bob Gurecki
nabbing some shots of the action: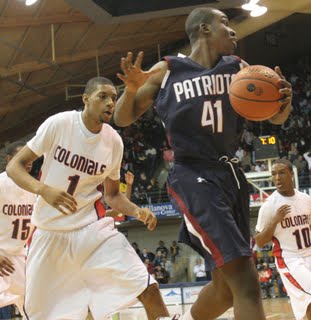 Penn Wood reserve forward
Jeff Kyem
pulls down a rebound in front of Plymouth-Whitemarsh's C.J. Aiken in the first half.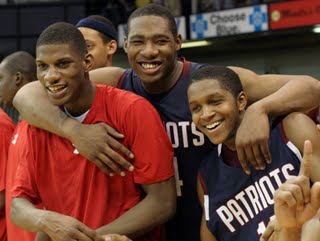 Shawn Oakman
(center) embraces
Aaron Brown
(left) and
Will Brown
(right) in the moments following the Patriots' upset of the Colonials.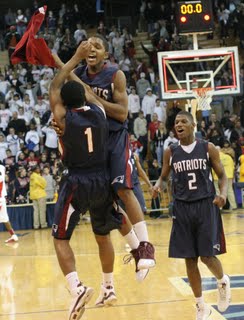 Reserve guard
Jerry Price
(No. 1) rushes to the court after the buzzer to meet
Will Brown
and
Aaron Brown
(back) following the Patriots' first district championship victory since 1992.
AROUND THE STATE

In a major upset, Reading dispatched Hempfield, 54-46, Saturday in the District Three Class AAAA title game. Hempfield, the top seed, had gone 27-0 en route to the title game.
What that does is make Penn Wood's road to a repeat as state champion a little more bumpy, with Reading winning and going to the West side of the PIAA bracket. The weekend is long, so let's see how the rest of the bracket shakes out before we reach any conclusions.
AROUND THE COUNTY

In the District One Class AAAA seventh-place game. Penncrest toppled Chester, 56-53, at West Chester East High School. The Lions'
Rodney Duncan
went off for 31 points, a career high. The Clippers trailed by 10 with two minutes to go before closing the gap. According to Penncrest coach
Mike Doyle
, Duncan's point tally is the best for any Lion in more than eight years.
Labels: Aaron Brown, Bob Gurecki, Chester, District One Class AAAA playoffs, Jerry Price, Mike Doyle, Penn Wood, Penncrest, Rodney Duncan, Shawn Oakman, Will Brown