HAVERFORD HIGH HAS FUN DURING LAST PRACTICE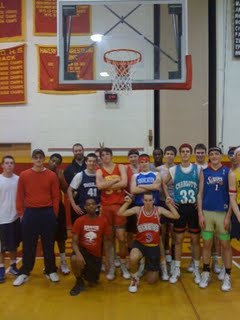 Haverford High coach
Terry McNichol
and the Fords had a rough go this season, finishing with only two wins.
Still, the longtime coach and his players decided to have some fun last month during their last practice of the season. Per tradition, the Fords arrive at Juenger Gymnasium wearing retro clothes. That's retro look
AND
retro fit, as you can tell by the photos. It's a nice way to turn the page on a tough year. (Though, it is worth noting that Haverford High won two of its final five games.)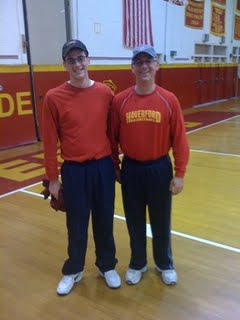 The other photo here is of McNichol, right, and senior
Dan McWilliams
, who arrived to practice trying to replicate what his coach wears. (Pretty good guess on McWilliams' part.) Anyway, McWilliams missed the whole season due to injury ... but he didn't miss any practices. Retro Day certainly was no exception.
Kudos to the Fords for keeping a good attitude during a tough season.
Labels: Haverford School, Terry McNichol