INJURY COULD SIDELINE IRVING IN CATHOLIC FINAL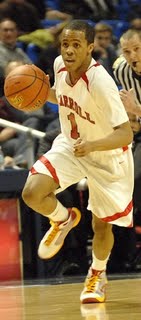 Archbishop Carroll's
D.J. Irving
has never missed a game in his four-year varsity career, though it seems likely the senior will sit out Monday's Catholic League championship game against Neumann-Goretti.
Irving broke the middle finger on his right shooting hand Wednesday during the Patriots' 51-47 Catholic semifinal victory over La Salle. His hand is set in a cast. Irving said he will make a decision Monday based on how he feels.
Here's more from Irving on the injury:
Q:
How do you feel about your team playing without you?
A:
I'm pretty confident and we haven't even had practice yet, because of the snow the last two days. Everybody's going to step up and do what they need to do to be successful.
Q:
How did you know your finger was broken?
A:
I felt something and I heard a little crack. I thought it was just my knuckle cracking. I knew I never felt anything like that before. Usually I could just shake it off, but this was killing me.
Q:
So why did you try to get back in the game?
A:
I had to test it. I told the trainer that I felt fine and I checked myself back into the game, basically. When I first got in, I could dribble a little with my right hand. I drove to the basket with my right and missed a layup. Later, I shot a 3. I was wide open and I missed it. I knew it was something serious when that happened.
For the full story, check out
Saturday's

Daily Times
.
Labels: Archbishop Carroll, Catholic League playoffs, D.J. Irving, injury