THE VIEW FROM BEHIND THE CHESTER BENCH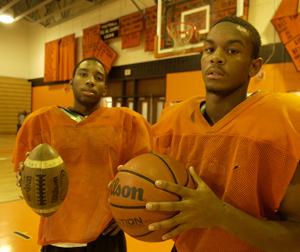 When I attend games, I don't like to sit at the scorer's table. Well, I do. But it's not my first choice. And especially not at a gym in which I've never seen a game.
So when I found a spot at Council Rock North Tuesday behind the Chester bench, I took it. In case you didn't get today's paper, the Chester backcourt of
Laquan Robinson
and
Maurice Nelson
(pictured) tore it up in the Clippers' win. Here's what I saw and heard from my vantage point:
TV timeout?
At Rock North, there was a huge projection screen set up in the far right corner of the gym – sort of like a closed-circuit television broadcast of the game. But the opening tip was delayed for 60 seconds until technical difficulties had been ironed out and the refs had gotten a thumbs-up from the staff at Rock North. So, in a high school game, we had a TV timeout. … Good grief.
"Call it both ways."
Late in the second quarter, Council Rock North's
John Raymon
was whistled for a personal foul, the Indians' second of the half. A fan of the home team shouted toward the court, "Hey, ref, call it both ways." … to which Chester assistant coach
Keddy Harris
shouted back, "Yeah, that's right – call it both ways." By the time Rock North got its second foul, Chester already had seven.
Just in awe.
At halftime, the Rock North cheerleaders did their little song and dance … then they waited on the court to watch the Chester High cheerleaders. Standing there, hands on their waist, they applauded the Clippers' crew after their in-unison splits. And the home-fan-heavy crowd gave the visiting cheerleaders a greater applause than its own squad.
BY THE NUMBERS

22 … turnovers by Council Rock North
15 … Chester's biggest lead, at 32-17 with more than 12 minutes remaining
9 … missed free throws by Chester
4 … first-quarter 3-pointers by Chester's Nelson
2 … offensive rebounds and subsequent putbacks by Chester's
Ronnell Williams
at the second- and third-quarter buzzers, effectively breaking the Indians' will
Labels: Chester, District One Class AAAA playoffs, Keddy Harris, Laquan Robinson, Mo Nelson, Ronnell Williams