OBSERVATIONS ABOUT DISTRICT ONE BRACKET
The
District One Class AAAA bracket
has been out for a couple days, being decided upon by the coaches Sunday. And as such, I have had a couple days to let it marinate.
Here are some of my observations surrounding the district playoffs, which begin Friday:
Deserved draw – No. 1 Plymouth-Whitemarsh.
The Colonials lost only once – to a nationally ranked team from out of state. Penn Wood, the No. 2 seed, lost three games – all to nationally ranked teams from out of state. You could say it could've gone either way, with one PW team jumping ahead of the other. Penn Wood lost the top spot by five-tenths of a point. "They had the best season," said Penn Wood coach Clyde Jones. "They deserved it more than we did."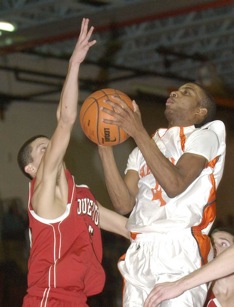 Best draw – No. 11 Chester.
Nobody is ready to dismiss the Clippers. You can't do that to a team that has earned so much respect (and won so many district crowns) over the years. That being said, look at their bracket: First round vs. No. 22 Conestoga. Second round, either vs. No. 6 Council Rock North or No. 28 Quakertown. Quarterfinal, probably vs. No. 3 Souderton or No. 19 Ridley. Keep in mind, you only have to win two rounds to make states.
Flip-Flop draw – No. 4 Coatesville, No. 5 West Chester Rustin.
Hours after the district seeding meeting, the numbers were run again and these two teams were flipped. I think Rustin got the worst of this, potentially seeing No. 12 (and defending district champ) Norristown in the second round.
Head-scratching draw – No. 6 Council Rock North.
The Indians, based on a few highly unofficial pre-seeding meeting projections, should have been ranked in the top five. Instead the earned the sixth seed, which could work against them. They might have the talent to escape the first round, but getting Chester (potentially) in Round 2 is a tough draw.
Luckiest draw – No. 30 Glen Mills.
It's tough to call the 30 th seed in a 32-team bracket lucky, but at least the Battlin' Bulls get to avoid No. 1 Plymouth-Whitemarsh and No. 2 Penn Wood in the first round. For a team that – in this writer's opinion – was on the outside of the playoff bubble looking in, the Bulls have a great chance to get into Round 2 and vie for a state-playoff spot. More power to them.
Labels: District One Class AAAA playoffs