MARPLE NEWTOWN IS NOT SATISFIED JUST YET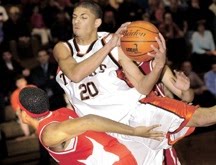 Wednesday's win was big for Marple Newtown. How big? After taking down Harriton, 71-61, a throng of Marple fans - who wouldn't stop screaming throughout the game's duration - emptied the stands and occupied space on the floor.
But it's not over yet. The No. 8 Tigers (11-12) have a huge test looming Saturday in the quarterfinals of the
District One Class AAA tournament
, in top-seeded Holy Ghost Prep.
Here's what those around Marple's program had to say about their upcoming opponent:
Head coach
Gerry Doemling
: "They know what's coming up. We'll be ready. We know how good Holy Ghost is, but we also know that when we're playing our best, we can play with anyone. Other than St. Joe's Prep, we've been in every game this year.
Senior forward
Ryan Hanley
: "We've just got to keep playing hard. We have Holy Ghost next. People were predicted us to play for the championship. We knew we'd have to play them at some point. Might as well get it out of the way.
Senior guard
Soutiri Sapnas
(pictured): "They're the next team on the schedule. It's as simple as that."
Sapnas might have seemed like a man of few words, but that's only because he doesn't usually talk about upcoming opponents. He lets his play do the talking. And against Harriton, Sapnas dropped in 36. He'll need another game like that Saturday if the Tigers expect to beat the Firebirds.
Labels: District One Class AAA playoffs, Gerry Doemling, Holy Ghost Prep, Marple Newtown, Ryan Hanley, Soutiri Sapnas