CARROLL WITHOUT TWO STARTERS FOR PLAY-IN GAME?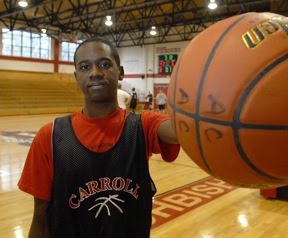 Who would've thought
Archbishop Carroll
losing Monday in the Catholic League championship would be the least of its problems?
Already coping with All-Delco point guard
D.J. Irving
sidelined with a fracture in his shooting hand, the Patriots have another problem afoot following their 75-59 loss to Neumann-Goretti at the Palestra.
Senior forward
Ben Mingledough
(pictured) was ejected from the game after stepping in to break up a confrontation between teammate
Vince Mostardi
and the Saints'
Tony Chennault
, a Wake Forest-bound guard who is four inches taller than Mostardi. That means the Patriots will be without both Mingledough and Irving (assuming he doesn't cut off his cast) when they take on Simon Gratz Wednesday in the District 12 Class AAA play-in game.
A year ago, Carroll beat Gratz in the play-in on its way to the PIAA crown. Still, you have to imagine the Patriots would like their odds against the Bulldogs a whole lot more with their second- and third-leading scorers on the court instead of on the bench.
Labels: Archbishop Carroll, Ben Mingledough, Catholic League playoffs, D.J. Irving, Neumann-Goretti, Tony Chennault, Vince Mostardi