PENN WOOD CLAIMS THE DISTRICT ONE CROWN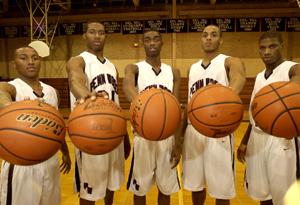 Congratulations, Penn Wood Patriots: You are the 2009-10 District One Class AAAA champions.
For the first time since 1992, the Patriots own that distinction, after having beaten Plymouth-Whitemarsh, 54-49, Friday night at the Pavilion.
The Patriots needed an overtime session to overcome a deficit that seemed to last the entire game ... and overcome the top-ranked team in the state and top-seeded team in the district.
Here's what we know about the Patriots:
***They still haven't lost to a team from Pennsylvania.
***They needed every ounce of veteran leadership and playoff experience against the Colonials.
***And, most importantly, they will face District Three's seventh seed, Penn Manor, a team the Patriots beat by five in the opening round of states a year ago.
Ahh, states --- now, the real fun begins.
Labels: District One Class AAAA playoffs, Penn Wood, PIAA Class AAAA playoffs, Plymouth-Whitemarsh