START THE CARS! PIAA PLAYOFF SITES, TIMES SET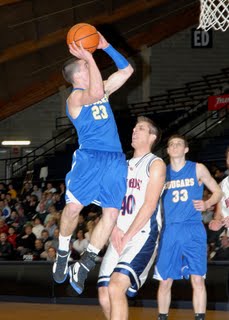 The PIAA playoff brackets were released Sunday night. Some of Delaware County's five boys teams have brief drives; others, well, aren't so lucky.
Here's the breakdown...
PIAA CLASS AAA - FRIDAY

***Springfield (18-8) vs. Murrell Dobbins (16-8)
At South Philadelphia High, 6 p.m.
What to know: The Cougars, District One's runnerup, probably has a better draw against their opponent from the Public League than district-champ HGP. Yeah, about that...
***Archbishop Carroll (22-4) vs. Holy Ghost Prep (24-3)
At Norristown High, 8 p.m.
What to know: The Firebirds, who won the District One crown, were rewarded with a first-round draw against the reigning state-champion Patriots. Fair? No. But it is what it is.
########
PIAA CLASS AAAA - SATURDAY

***Penn Wood (23-3) vs. Penn Manor (17-10)
At Norristown High, 3:30 p.m.
What to know: The newly-crowned District One champion Patriots knocked off the Comets, of District Three, in the first round of states a year ago. Probably enough said.
***Penncrest (24-5) vs. Bethlehem Liberty (22-5)
At Freedom High, Bethlehem, 4:30 p.m.
What to know: The Central League champion Lions have a 90-minute drive that covers 70-plus miles for this game. Liberty has a three-mile drive that takes eight minutes. Fair? No. But it is what it is. (See above.)
***Chester (16-10) vs. La Salle (19-5)
At Archbishop Carroll High, 4:30
What to know: The Clippers are in the unfavorable spot of losing three straight heading into states; meanwhile, the Explorers won a hotly-contested District 12 title game. It seems like the teams are going in opposite directions.
Labels: Archbishop Carroll, Chester, Penn Wood, Penncrest, PIAA Class AAA playoffs, PIAA Class AAAA playoffs, Springfield