CARROLL, GREEN MOVE ON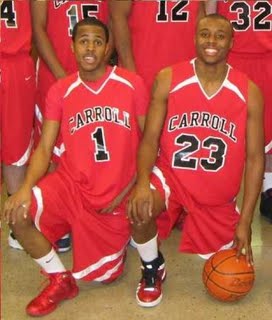 To be short and sweet, here's what you should know about Friday night:
Archbishop Carroll
can win (and will win) with a half-effective
D.J. Irving
, left.
Absent from the Patriots' two previous outings, Irving was one of several difference makers in their 37-30 win over
Holy Ghost Prep
in a PIAA Class AAA first-round game. Irving, who didn't score, had four steals, two rebounds and two assists.
But he wasn't alone. Junior
Juan'ya Green
, right, was wildly effective. He scored 14 points, picking and choosing the best shots to choose in order to maximize his effectiveness. He also had five rebounds, four assists and four blocked shots.
Because Irving – limited because of his still-tender hand – wasn't 100 percent, Green took the reins. He was all over the court, soaring from behind to block shots, dishing out eye-popping assists and doing much of the clock-killing dribbling in the game's final minutes.
Ben Mingledough
led the way with 15 points and
Vince Mostardi
had eight to round out the scoring leaders. Needless to say, those who doubted the Patriots because of Irving's hand … think again.
Here are other results from the PIAA Class AAA bracket:

Eastern York 68, Coughlin 42
Dobbins 57, Springfield 52
Mifflinburg 51, Pottsville 38
Abington Heights 58, East Pennsboro 28
Neumann-Goretti 64, Susquehanna Township 45
Holy Redeemer 59, Steel-High 39
Danville 68, Allentown Central Catholic 59
Archbishop Carroll 37, Holy Ghost Prep 30
Lancaster Catholic 52, Pottsgrove 44
York Suburban 61, Johnstown 46
Chartiers Valley 96, Erie Central 66
West Allegheny 42, Hickory 41
West Mifflin 81, Oliver 65
Bradford 45, Trinity 43
Hampton 63, Huntingdon 41
Montour 49, Erie East 42
####################

Next up: Archbishop Carroll vs. Danville
When and where: Tuesday night, TBD
What to know about Danville: The Ironmen went 18-6, have won five in a row and have won an opening-round PIAA game each of the last two seasons. They won Friday night, partly, because ACC showed up late to the game and weren't loosened up. Danville forced 10 first-half turnovers and the rout was on.
Labels: Archbishop Carroll, Ben Mingledough, D.J. Irving, Holy Ghost Prep, PIAA Class AAA playoffs, Vince Mostardi