RECRUITING ... WITH CARROLL'S GREEN, MINGLEDOUGH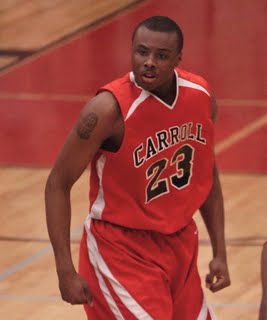 It's getting tougher to argue with the sheer numbers … and
Juan'ya Green
is putting up big ones.
The junior guard/forward scored 21 points, had five rebounds and handed out four assists in Archbishop Carroll's 64-51 PIAA Class AAA second-round victory Tuesday over Danville.
Temple assistant coach
Matt Langel
was spotted outside Carroll's locker room after the game.
When asked what that meant to him, Green had this to say:
"It's exciting, but I can't give it too much thought right now. I guess it's the way I play that people like. And I think I'm getting better every day, in practice and in games. I'm just playing hard."
It's worth noting two additional things, for those Temple fans out there: Green, who lives in Conshohocken, grew up in North Philly. The other is that Carroll coach
Paul Romanczuk
played for Temple coach
Fran Dunphy
while both were at Penn.
Green said he has offers from Temple, Saint Joseph's, Maryland, George Mason and Boston University. He has gotten interest, as well, from Georgetown, Marquette and Providence.
As for
Ben Mingledough
, the Patriots' 6-4 senior forward ... If I had to take a guess, I'd say he's headed to St. Peter's (N.J.) The Peacocks' assistant coach,
John Morton
, made the trek to CD East from their New Jersey campus to see Mingledough. Does that mean a commitment is imminent?
"I haven't made a decision," said Mingledough, who also has an offer from St. Francis (Pa.) "You could say I'm close." How close? "I don't know," he added. "I can't tell you yet."
Oh, the intrigue of college recruiting...
For those counting at home, that would bring Carroll's Division I count to three. Senior guard
D.J. Irving
is headed to Boston University. And, if we're talking total D-I kids from last year's state-title team, the Patriots have four:
Kasheef Festus
is a freshman at Coppin State.
NOTE
: The fifth and final starter from that 08-09 title team - the only one yet to be mentioned in this long, long blog post - was in attendance at Tuesday night's game.
Andre Wilburn
, who plays at Delaware State, joined the team in the locker room during postgame.
Labels: Andre Wilburn, Archbishop Carroll, Ben Mingledough, D.J. Irving, Fran Dunphy, Juan'ya Green, Kasheef Festus, Paul Romanczuk, St. Peter's, Temple