ARCH. CARROLL: HITTING THE ROAD FOR PIAA ROUND 2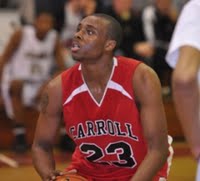 Central Dauphin East High School, Harrisburg: 118 miles, 2 hours.
In a little while, I'll be hitting the road en route to
Archbishop Carroll'
s second-round,
PIAA Class AAA
matchup with Danville at 6 p.m. It's going to take some time to get there and, according to the CD East folks, I've been told there's no Wireless in the building.
Bummer.
That being said, you can rest assured that right here on
Gettin' Schooled
you will see a synopsis of the game and some quotes from players and coaches within an hour after the final buzzer sounds. And, of course, you can always check Wednesday's
Daily Times
for the full report.
I'll keep you informed from Harrisburg. See you there.
UPDATED 10:23 P.M.
The Patriots pulled out a 64-51 victory over Danville and move into the PIAA Class AAA quarterfinal round for the second time in as many seasons of PIAA eligibility.
Of course, they'll have to get through Neumann-Goretti to go further.
Juan'ya Green
scored 21 points,
Ben Mingledough
tossed in 20 and
D.J. Irving
recovered nicely from the opening round, in which he posted the first scoreless game of his career at any level. The All-Delco point guard finished with 13 points.
Carroll (24-4) overcame a hot spell by Danville, during which the Ironmen made 11 straight baskets in a 9-plus minute span. The Patriots trailed at the break but poured it on after halftime.
For more check out Wednesday's
Daily Times
.
(Photo by Varsity365.com)
Labels: Archbishop Carroll, Ben Mingledough, D.J. Irving, Danville, Juan'ya Green, PIAA Class AAA playoffs