CAN PENN WOOD RUN THE DISTRICT TABLE AND MAKE A RETURN TRIP TO STATES?
One down, two to go.
That's the task facing senior
Malcolm Richardson
(pictured) and Penn Wood, which has taken the circuitous route to a fifth-straight bid for the state tournament.
The Patriots, who topped Great Valley Friday, need two more victories in the playback stages of the District One Class AAAA bracket in order to lock up the district's ninth and final berth in next month's PIAA tournament. Next up is Tuesday's date at Council Rock South.
It's only natural to wonder if Penn Wood, which earned the ninth seed last season, is capable of doing it again. Here's how they pulled it off last season compared to this season:
2010-11 District One Playbacks
Round 1:
vs. Pennridge (18-7)
Round 2:
vs. Wissahickon (15-10)
Round 3:
vs. North Penn (21-6) at neutral site
2011-12 District One Playbacks
Round 1:
at Great Valley (19-6)
Round 2:
at Council Rock North (19-6)
Round 3:
vs. Pennsbury (18-7) or Cheltenham (16-9) at neutral site
If we learn anything from the year-to-year breakdown, it's this: Penn Wood will have had a more difficult road to take in order to win the ninth seed should this year's team pull it off. Why? Because their first two playbacks are on the road, as a result of being the No. 14 seed, and because their opponents have a better combined overall record than those of the 2010-11 team.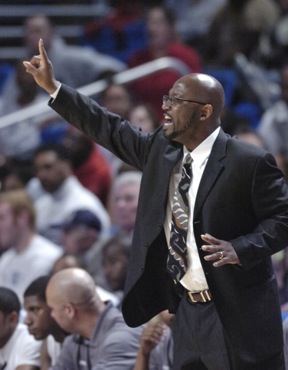 Said Penn Wood coach
Clyde Jones
(pictured): "I knew that group last year was anxious to play. This group, I tell them to bring with them all their gear they'll have to turn in. That way, they get the message that their next loss is their last. They respond, man."
The 2010-11 team featured Division I football recruit
Shawn Oakman
(Penn State), two-time All-Delco and Division I basketball commit
Aaron Brown
(West Virginia), and junior-college standout
Darian Barnes
(Harcum). This year's team has Richardson, a do-it-all senior headed to East Stroudsburg.
"We're just mixing-and-matching," Jones said. "I'm doing it with mirrors. Man, I played a 5-9 guy at the 4 (against Great Valley)."
Which would make Penn Wood's journey to states that much more satisfying, should the Patriots pull it off.
Labels: Aaron Brown, Clyde Jones, Darian Barnes, District One Class AAAA playoffs, Malcolm Richardson, Penn Wood, Shawn Oakman