WEST VIRGINIA'S MURRAY, A TWO-TIME ALL-DELCO AT GLEN MILLS, ARRESTED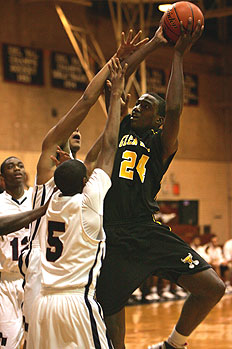 Multiple sources are reporting that West Virginia University's
Aaric Murray
, a two-time All-Delco at Glen Mills, was arrested Thursday morning in Philadelphia on possession of narcotics.
The Sporting News was among the first to report it. Adam Zagoria, a Big East basketball reporter based out of New York, is reporting that
Murray was charged with marijuana possession
.
The 6-10 center was charged with possession of marijuana, according to Adam Zagoria, a New York-based Big East basketball reporter. According to a CBSsports.com report, a Philadelphia Police spokesperson said Murray was arrested at 9:50 a.m. on the 1700 block of South 20th St. and was being held on bail as of Thursday afternoon.
Murray, 22, spent two seasons at La Salle, where it had been reported he clashed with Explorers coach John Giannini. Murray transferred to West Virginia after last season. He's sitting out this year per NCAA rules.
An all-state selection in his time at Glen Mills, Murray averaged 17 points, 12 rebounds and three blocked shots per game as a senior.
Check back throughout the day, and pick up Friday's Daily Times for more on this story.
UPDATED: 5:22 P.M.

-- West Virginia coach Bob Huggins releases a statement regarding Aaric Murray's arrest: "I've been alerted about the situation and the matter will be handled internally," West Virginia coach Bob Huggins said in a statement.
Calls to Pete Forjohn, the Glen Mills athletic director, and Craig Mellinger, who coached Murray at Glen Mills, were not returned.
Labels: Aaric Murray, Glen Mills